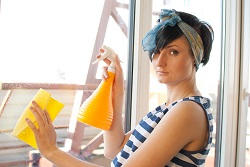 If you've recently had some building work done and your house has been left in a mess, then it's essential that you get down to cleaning as soon as possible. Even if your builders have done a great job, it's inevitable that there's still going to be a lot of dust and dirt around you house, no matter how hard you may have tried to contain the affected area. Depending on the extent of the building work, you might have to clean your entire house. Dust and dirt travels, so use some of these top tips to help get your house back to its pre-building work state.
1. Tackle your builders cleaning systematically.
Start off by cleaning the areas that are most affected, but bear in mind that you'll probably have to house clean again.

2. Hang bin bags on your door handles.
Hanging a bag on the door handle of every room or putting bins at the entrances will make you more likely to dispose of any rubbish as and when you see it. Take a walk around your house and pick up any obvious bits of rubbish first. As you continue working your way from room to room and continue home cleaning, you'll notice more bits of rubbish, such as rubble, building materials etc. If you've placed bags on your door handles, you'll be less inclined to chuck the rubbish in the corner and you'll be more likely to dispose of it there and then, saving yourself from picking up after yourself later on.

3. Vacuum clean.
The simple things really do work well. Get your vacuum cleaner out and clean all the floor areas. Make use of the various attachments that come with your cleaner and give every surface a once over.

4. Dust from ceiling to floor.
One of the main problems when it comes to dealing with house cleaning, especially when you've had some building work done, is the amount of dust that always seems to cake every available surface. Dust not only coats furniture, but it also sticks to walls and ceilings. But the good news is that you don't need any store-brought cleaners to take care of the problem. All you need is a soft microfiber cloth; dampen your cloth and then gently wipe down your walls from top to bottom. The damp cloth has an adhesive property that will cause the dust to stick – problem solved!

5. Don't forget to deep clean your carpets.
Carpet cleaning is essential when taking care of the mess left over after building work. You may have covered your carpet during the work, or you may have even put it in a storage cupboard somewhere, but it's almost inevitable that there's going to be some kind of dust dirtying up your carpet fibres. First things first, take you carpet outside and give it a good thumping. This will dislodge any dirt lodged deep within the carpet fibres, and will make it easier to clean later on. Next, get yourself a carpet powder; shampoos are also available, but these wet products will take longer to work, and if not used properly, could stain your carpet for good. With powders, you won't have to spend hours waiting for the fibres to dry, and can just vacuum up when you're done.

6. If your building work has left your house in a particularly bad state, it could well be worth getting some extra help. There are plenty of cleaning companies out there all offering a range of cleaning services that are bound to be able to sort out the state of your house.


You may also like: